SIP trunk is a virtual telephone line that connects telephone systems. It uses SIP and RTP protocol to connect a Motion system to an Internet telephony service provider (ITSP) for providing voice over IP network. The VoIP service provider will provide you phone number(s) associated to the trunk and routes incoming/outgoing calls to/from Motion system via the trunk. SIP trunks are typically cheaper than traditional PSTN lines but keep in mind that a VoIP call requires bandwidth.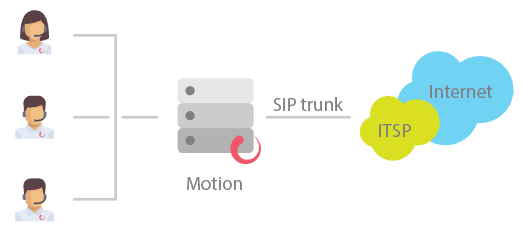 If you want to use traditional PSTN lines, you will need to use VoIP gateways. A VoIP gateway is a device that converts telephony traffic from E1/T1/PRI telephony connection into data, so that it can be transmitted over an IP network. In this way, voice calls in your Motion system can be routed through the traditional telephone network.

Benefits of SIP trunking
Low call charges: Competition among SIP trunk providers has significantly lower call charges and long distance calls cost is significantly less with a SIP trunk.
Scalable: It's easy to add channels to accommodate increase in calls without the need to install additional lines.
Simple network architecture: you can have a single IP based network instead of redundant telephone and data networks. SIP trunk also avoids the need to use VoIP gateways which removes additional hardware cost and complex configurations.
Maintain same phone number: you can have same phone number irrespective of your company's location.